[et_pb_section fb_built="1″ _builder_version="3.22″][et_pb_row _builder_version="3.25″ background_size="initial" background_position="top_left" background_repeat="repeat"][et_pb_column type="4_4″ _builder_version="3.25″ custom_padding="|||" custom_padding__hover="|||"][et_pb_text _builder_version="4.4.7″ background_size="initial" background_position="top_left" background_repeat="repeat" hover_enabled="0″]
If you and/or your company are hosting an event, you'll likely have a million things on your mind, but the safety of your employees should always be the top priority. This can be achieved with custom safety gear.
Although it's troublesome to think about, event staff can be harmed in many ways, including vehicular accidents, attacks from disturbed attendees, and eye irritation from dirt, dust, broken glass, and other debris. These risks can harm your team members, yourself, and your business. A well-protected and secure team with custom safety gear will keep you safe from legal liability and prevent the potential guilt of an employee being harmed during your event.
There are three key types of custom safety gear you should consider providing for your team: vests, glasses, and protective accessories. All gear can be customized for stronger, more cohesive branding throughout your event.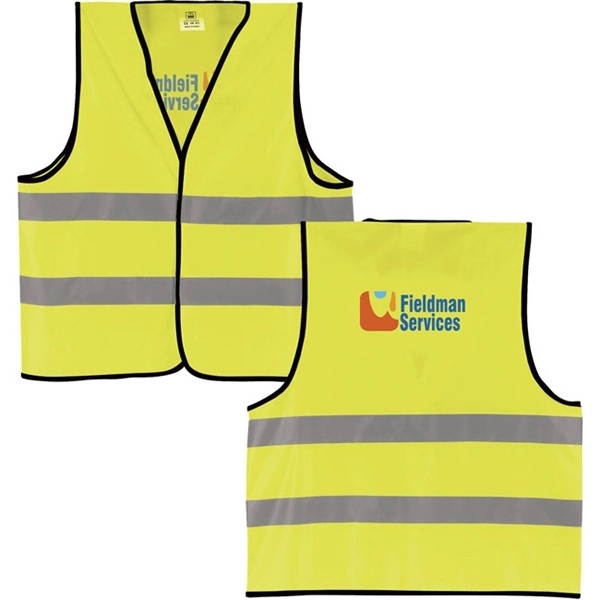 Safety vests make your team more noticeable. They catch the eye and alert passing drivers that your team members are nearby. This has two key benefits: attracting potential business and reducing the risk of harm from motor vehicle accidents. Those drivers may become intrigued by your event and feel compelled to stop and learn more about your company, but more importantly, your team members can avoid injury caused by a passing motorist's inattention.
Safety vests do their job whether it's dark or light out. In the daytime, they stand out thanks to their unmissable bright colors (typically orange, green or yellow). In the night time, the vest catches and reflects light from oncoming headlights.
All vests provide extra visibility for your team members, but some varieties take safety to a new level with quick-release fasteners on the shoulders, sides, and back. These fasteners break away when lightly tugged, providing a quick escape if the person wearing the vest is being pulled by something (or someone). Vests with these features are typically called "Class 2" vests.
Each of our vests can be branded with your company and/or event name and logo. Contact us for a digital proof to see what your custom vest will look like.

Eye injuries are distressingly common in the workplace, even on normal days and in everyday situations. In fact, according to the National Institute for Occupational Safety and Health (OSHA), approximately 2,000 American workers receive eye injuries every single day while at work and are injured severely enough that they have to seek medical attention. This means that safety glasses are a must for your special event staff, particularly if your event takes place outdoors and/or any of your team members are required to be outside.
By equipping your team members with protective eyewear, you reduce their risk of injury by up to 90%, according to several surveyed eye doctors and safety experts. Safety glasses protect the eyes from threats like:
– Flying debris (i.e. wood or metal chips and broken glass)
– Dirt, dust, and other airborne irritants
– Cuts and scrapes to the cornea or the skin around the eyes
– Burns from oil or steam
– Airborne disease contracted through the eyes
– Damage from exposure to the sun
To ensure your staff can wear their glasses comfortably from the beginning of the event to the end, choose a pair with rubber nose pieces and soft rubber temples to prevent chafing. If any of your team members wear glasses already, we offer options that slide seamlessly over their primary eyewear.
Just like our vests, each pair of protective glasses can be branded with your company and/or event name and logo.

Beyond the Basics: Safety Accessories
After you outfit your staff with safety vests and glasses, you may find yourself wanting to give them even MORE protection. There's no such thing as keeping your employees "too safe," so we understand! Check out some of our favorite customizable safety accessories.
– Keytags: These can be attached to keys or zippers for extra visibility.
– Earplugs: These keep dust, dirt, and other debris out your employee's ears, as well as protect against hearing loss.
– Hard Hats: These offer premium head protection and keep your employees safe from falling debris.
Custom Safety Gear and Good Branding
Customizing your event staff's safety gear improves your branding in a few ways.
For one, you will stand out as an employer that cares for their employees and puts their safety first. If your event is focused on gaining new customers or establishing your brand, that sort of differentiator can be crucial.
Secondly, placing your name and logo on your team's vests ensures your logo will be seen everywhere at your event. Not only will it be within your attendee's sights at all times, but it'll create a positive association between your company, the wonderful event it hosted, and the helpful staff it provided that made the event even more enjoyable.
Why Choose Build Your Own Garment (BYOG) Logo?
We've been a premier custom t-shirt business since 1991. We don't believe in outsourcing or skimping on quality, so all of our customization work is done in-house. Since we take care of everything ourselves, we can get your items to you quickly. It also keeps our production costs low, and we pass those savings on to you!
What Happens Next?
We'd be delighted to provide any custom safety gear you need to protect your staff and ensure a successful company event. If you already know what you want, request a quote directly on our website. Just provide a little bit of info about your needs and give us a way to contact you, and a member of our team will reach out.
For other questions, click here to contact us. You can fill out the form on the right-hand side of the screen to send us an email, or if you'd like to expedite your request, use the live chat system on the left. Either way, we will get back to you shortly.
We can't wait to hear from you!
Keep Reading: